No Telegram 🫥 - Stay Safe!
Registered
Posts

280
Trophy

6
Credits
How to buy bitcoin with bank cards: 5 main ways to buy cryptocurrency Bitcoin (BTC)

​
Almost every modern person uses bank cards with some frequency, since this is one of the most convenient ways of making purchases in fiat. With the growing popularity of digital assets, the relevance of the question of how to buy bitcoin with a bank card is growing - quickly, comfortably, in one operation. The Profinvestment.com editors will tell you about the available ways to purchase Bitcoin using a card: through specialized exchange services, exchanges, payment systems, etc.

Why buy bitcoin​
People buy Bitcoin for a variety of reasons. Firstly, it is an innovative monetary system that is much more perfect than the one that all of humanity has used for many centuries. It is completely fair, since it does not depend on centralized power, but only on the mathematical formulas embedded in the code. In the bitcoin network, everyone is equal, there are no users with privileges.
Secondly, bitcoin as an asset is a good option for diversifying your investment portfolio. It is volatile, but shows an upward trend in the long term. At the moment, in the conditions of the coronavirus crisis, its new side has opened - as a protective asset for saving capital from inflation and political uncertainty. For many years this role belonged to gold, but now he had to make room.
Every day BTC is more and more accepted in society, recognized as a method of payment. Many large investors and companies invested thousands of dollars in this asset at the end of 2021, which led to an unprecedented rise in the rate.
Of course, due to volatility, it is difficult to predict how much Bitcoin will be worth even after a month. Therefore, you should not invest all your savings in it, but as part of a portfolio, it works very well. Perform a risk-to-benefit analysis before purchasing.

The main ways to buy bitcoin from a card​
We propose to consider the most popular methods, which, due to their characteristics, are suitable for both beginners and experienced users. Choose the one that suits the conditions as much as possible.

1. Exchanges​
Almost all top cryptocurrency exchanges allow buying BTC from a card . True, this will require identity verification. This is the result of the EU's strict anti-money laundering policy requirements. Verification includes confirmation of passport data, photographs, address of residence, as well as, in some cases, directly the card from which payment will be made.
After verification (data verification can take up to several days), you need to replenish the exchange account using a card, and then buy bitcoin or other digital assets with these funds. Please note that some of the exchanges charge a commission for replenishment. Examples of cryptocurrency exchanges that support bank cards:
Binance. Commission for replenishment from VISA / Mastercard in rubles - 3.3%.​

Currency.com. Commission 3.5%.​

EXMO. Commission 2.99%.​

Cex.io. Commission 2.99%.​
2. Exchangers​
If we talk about exchange services , then bank cards are one of the most popular ways of exchanging for them. The BestChange aggregator will help you choose the right service. All exchangers posted on it have passed certain checks - the availability of reserves, an affiliate program, the terms of work (at least six months). In some cases, even the identity of the owner of the exchanger is verified. And even after the addition, BestChange continues to track feedback on the activities of all services.
Going to BestChange, select a payment method (for example, Visa / Mastercard RUB) and the currency of receipt - Bitcoin. You will see a list of services that support this direction, and brief information about them.
The functionality of all exchangers is approximately the same. You choose the desired direction, fill out an application, indicating the address of the BTC wallet to which you want to receive the cryptocurrency. Then you pay for the application from the card using the issued details and wait for the BTC to be credited to the wallet, which may take some time due to the blockchain load.
As a rule, the commission is already included in the course, that is, you get exactly as much as it was written when creating the application. However, some exchangers may charge additional fees. This is written on the site during the application process, so pay attention to all auxiliary messages.

Examples of trusted bitcoin exchangers with bank card support:
Prostocash​

365cash​

NiceChange​

MagneticExchange​

60jack​
3. p2p exchanges​
Peer-to-peer cryptocurrency platforms serve to enable users to exchange assets with each other on their own terms, and not on those established by a centralized authority. These sites provide functionality for creating offers, where the participant can personally specify the desired payment methods, exchange rate and other parameters.
Other users use search and filters to find deals that meet their needs and respond to them. At the same time, at the time of the transaction, the cryptocurrency is blocked on a special escrow account, and the buyer transfers fiat to the seller outside the exchange, directly to the issued card details. When the merchant confirms that they have received payment, the bitcoins are released and transferred to the target address.
Most of these sites only charge a commission on the transaction from the users who create the ads. By responding to an already existing ad, the purchase can be made without any commission, which is an additional plus.

Examples of p2p exchanges for purchasing bitcoin from a bank card:
Paxful​

LocalBitcoins​

Cryptolocator​

HodlHodl​
4. Wallets​
A cryptocurrency wallet designed to securely store bitcoin can also act as a tool to buy it. Typically, this involves a third-party payment provider such as Simplex. Minimum and maximum transaction limits have been set. Fees vary by wallet and payment provider. Thus, the commission can be quite substantial. Make sure your purchase is profitable.
Wallets with the ability to purchase via cards:

5. Payment systems​
Buying bitcoin from a card via ADVcash (available only after verification)
Electronic payment systems are multifunctional: most of them support several types of currencies, make it possible to quickly exchange them for each other, as well as buy in different ways, including bank cards. At the same time, commissions are usually low, and the assets received can be immediately used for further operations (exchange, transfer to another account, payment for goods or services).

Examples of payment systems with the ability to purchase BTC through a bank card:
AdvCash (verification required). Commission 0.0004 BTC.​

Payeer. Supports multiple fiat and cryptocurrencies. Having bought, for example, rubles from a card, you can exchange them for bitcoins with the built-in functionality. Commission for replenishment from a card 4.99% of the amount, decreases when the volume reaches $ 10000.​

Capitalist. It allows you to buy USDT from a dollar card (commission 3.95%), which are then transferred without loss to USD, and USD can already be exchanged for BTC through an integrated conversion mechanism.​
Where to buy bitcoin from a card without verification (anonymously)​
As you can see, in most cases, identity verification is required when buying from a bank card. For some reason, this method may not be suitable - for example, if anonymity is fundamentally important, or if you do not want to provide passport data for the sake of performing a single operation.

Nevertheless, there are several ways that do not require passing the KYC / AML check:
Exchangers. Do not ask for identity verification, but may request card verification. This process involves providing the user's first and last name and a photograph of the card so that the hand holding it is visible and the exchange site is open in the background. It is not necessary to provide the expiration date of the card or CVC, only the number and name of the owner.​

Trustee Wallet, Jaxx.​

Payment system Payeer.​

Most p2p exchanges. They require verification either upon reaching certain trading volumes, or to expand the selection of available ads, or to create ads.​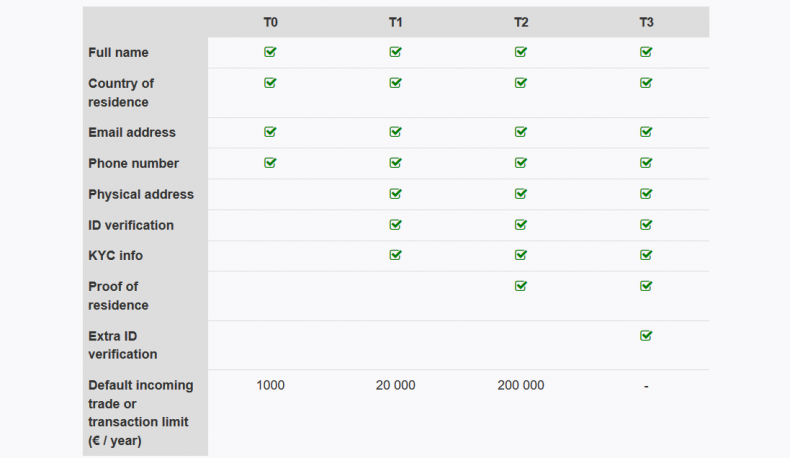 ​
Verification levels on LocalBitcoin. At the T0 level, you can only respond to existing advertisements and the volume of transactions is limited to 1000 euros per year.

Conclusion​
The method of buying bitcoin with a bank card is quite convenient and simple. But its main disadvantage is the low degree of anonymity - most services require confirmation of identity or a card for this. If this does not bother you, then you may well use the services and platforms listed above. Choose only safe and proven sites over the years that have a good reputation and are attentive to the storage of confidential customer data. Data leaks have already happened several times, but over the years, platforms have become more secure and use innovative protection mechanisms.
You must reply before you can see the hidden data contained here.