EZ Inboxer v7.2.3 Nulled
EZ Inboxer Nulled
is a revolutionary, world's very first, most powerful marketing software for Facebook. The magic part of EZ Inboxer is to send promotional message to pages old & new messenger leads, where all other service allow to send only non-promotional messages & new leads.
The application is developed with Facebook official API. So everything is designed in legal way. But we are not responsible for your abusive use.
You can also start your own business and can sell EZInboxer services to your users ! It's a
Multi-user SaaS
application.
PayPal and Stripe
are integrated for getting payment from users.
If you want to charge your end user for using the service you have to buy
EXTENDED LICENSE
.
Before check out, we highly recommend to
Read FAQ
, if you have any confusion. If it doesn't cover all, feel free to ask your question.
Features
Bulk Message Campaign:
Multiple Facebook Account.
Sync. Page's Messenger Leads.
Lead Grouping
Send Bulk Message to Leads.
Auto Sync. Everyday.
Multi-page Campaign Set option.
Multi-group Campaign Set option.
Custom Campaign Set Option.
Emoji and spintax message
Full Report of Campaign(Delivery/Unsuccessful).
Custom Message With Individual Leads Name option.
Delay Option For Each Message Send.
Unsubscribe Link Embed Option.
Manual Unsubscribe Option.
Auto Unsubscribe Leads Who Blocked Page Message.
Auto Comment Tools:
Auto Comment on Page Post as Page
One-time & Periodic Comment
Serial & Random Periodic Comment
Auto Comment Template Management
Emoji and spintax comment
Choose Time & Date Interval of Comment
Increase Page Engagement
Lead Generator:
Auto Private Reply for Post Comment.
Auto Comment Reply for Post Comment.
Auto Like on Comment
Highly Customization Auto Private Reply & Comment Reply Text.
Filtering Word Based Auto Private Reply & Comment Reply Option.
Full Report of Auto Private Reply & Comment Reply.
Send Message Button for Your Website.
JSON code generation tools for Facebook Messenger Ads.
Emoji and spintax message
Page Inbox & Notification Manager:
Pages Message in One Place
All Unread Message in One Place.
Reply Option from One Place.
Unread Message Information Notification to Email.
Page Posting Features
Text,Image,Multi-image,Video & Link Post
Carousel & Slideshow Post
CTA Button Post
Schedule/Instant Post to Your All Facebook Pages with a Single Click .
Periodic Re-posting Ability
Enable Auto Comment Reply Campaign With Post.
Full Report of Posting
Emoji Library
Other Features:
RSS Auto-posting
Multilingual Support (Built-in 12 Languages)
Eye-catching Ad-ready Landing Page
Automatic Update
Add-on Support
Awesome Dashboard.
Multi-user and SaaS Application.
PayPal & Stripe Integrated.
End user don't Need API Configuration.
Social Login (Google+Facebook)
Complete User Management System
User Login Log Report
Master Password to Login User Account
PHP Native Email, SSL SMTP & Non-ssl SMTP Setup
Announcement For Member
Is sending bulk message to Facebook leads using our system GDPR compliant?
Yes, sending bulk message using our system is GDPR compliant. Because people OPTIN to our Facebook page by starting messenger conversation and we can prove it. They become our lead in a valid way. All the message we sent must have unsubscribe link (we already have this feature) or other way so that people can unsubscribe any time.
PayPal & Stripe Payment Integrated
Live Demo
Backend Link:
https://inboxer.xeroneit.net/home/login_page
Frontend Link:
https://inboxer.xeroneit.net
Login as Admin
Username:
admin@xeroneit.net
Password: 123456
Feel free to create your own demo account if you are willing to test this app with your Facebook account. Other users will not be able to login to your account. You can unlink your Facebook account after testing.
Server Requirements & Installation
PHP v5.4 / v5.5 /v5.6 / v7 & MySQL v5.x
Make sure curl is enabled , mbstring is enabled, set_time_out is enabled , safe_mode is off, open_base_dir has no value, multibyte string PHP extension enabled, allow_url_fopen=1 and mysqli support is on.
Make sure Apache server's mod rewrite is enabled.
See installation video in video manual section below.
It will need ZipArchive php module installed to unzip and install addon. If you can not have this php module then you have to upload and unzip addon files manualy in application/modules folder and then activate from addon menu.
Your domain must have https to use EZ Inboxer features.
[Note: If you get
"404 page not found"
error then make
AllowOverride
in your virtual host.]
For better performance set php max_execution_time, mysql connect_timeout & mysql wait_timeout to long limit possible, so that your server can process script for long time if needed. Also watch "Bulk Message Frequency Settings" video from video manual section below.
Documentation
Want to know more about EZ Inboxer? Please read our
Documentation
FACEBOOK APP REVIEW
If you want to use the system only for you, not for any of your other users, then you can use EZ Inboxer without creating your own Facebook app. You can use it by using our shared APP.
Learn more from here
.
However to use it by your other users as SaaS, You need to get APP Approval. We always recommend to use your own app & submit for approval. It's easy to get approval.
This approval needs only for Admin APP. Please follow the link below to know in details.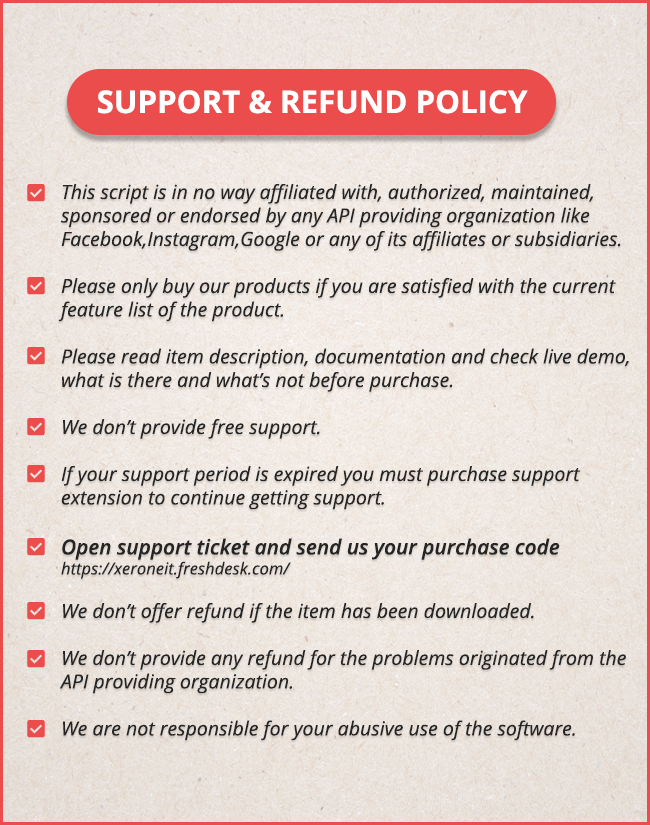 EZ Inboxer Add-ons Available in Market
Change Log: (changes that fulfill your daily needs )
V7.2.3 – 1st April 2019
Fix: Error fix if account is not imported for facebook poster.